MEDITERRANEAN BREAKFAST BOX
See what's in it
1 Baguette with Ham, Gouda & Mayonnaise
4 Toast loaves
1 Strudel with apple & cinnamon cream filling
1 Yogurt dessert

2 la vache qui rit

2 Portion Honey
2 Portions of Jam
2 Portions of Butter
1 Orange juice
2 Nes Coffee sachets
2 Tea Bags
2 Portions of Milk
4 White sugar sachets
4 brown sugar sachets
See what's in it
1 Croissant with turkey and cheese
3 slices of bread
2 la vache qui rit
1 chocolate muffin with hazelnut praline filling
1 Traditional Rice Milk
2 Portion Honey
2 Portions of Jam
2 Portions of Butter
1 Orange juice
2 Nes Coffee sachets
2 Tea Bags
2 Portions of Milk
4 White sugar sachets
4 brown sugar sachets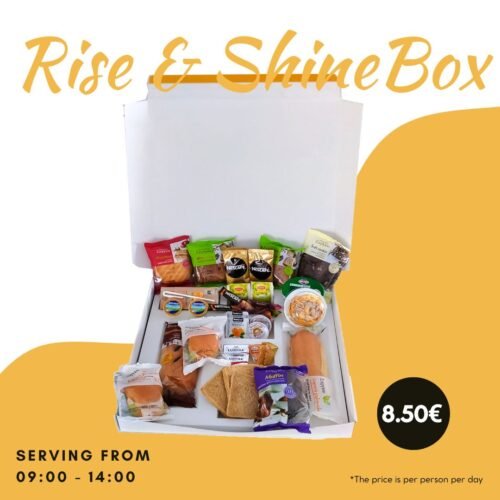 See what's in it
1 Baguette with Ham, Edam & Mayonnaise
3 slices of bread
1 Viennese with chocolate cream filling

2 la vache qui rit

1 Portion of Honey
1 Yogurt dessert
1 Portion Apricot Jam
2 Portions of Butter
1 Orange juice
2 Nes Coffee sachets
2 Tea Bags
2 Portions of Milk
4 White sugar sachets
4 brown sugar sachets
See what's in it
1 Meatball with smoked Turkey, Edam & Mayonnaise
3 slices of bread
1 Viennese with chocolate cream filling

2 la vache qui rit

2 Portions of Honey 20g
1 Yogurt
2 Portions of Jam 20 g
2 Portions Butter 10g
1 Orange juice 250ml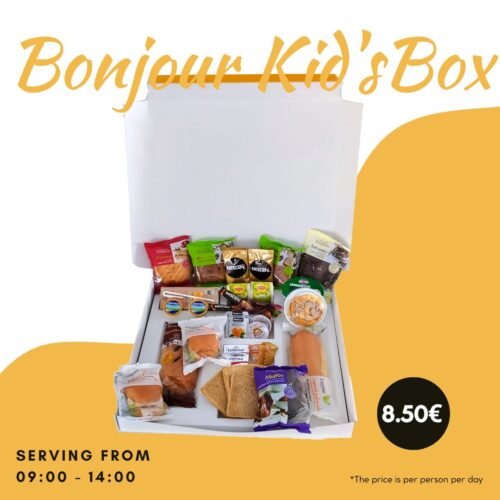 Breakfast boxes, served in the room from 09:00 to 14:00.
Placed in your fridge from the day before after room service.
You can consume it whenever and wherever you want.
You can take it to the beach or even on your day trip.
*We recommend that the sandwich, yogurt or rice pudding, as well as the dessert, not be left out of the refrigerator for a long time.
You can order as many breakfasts as you like. In case you have children under 5 years old, we inform you that the contents of the Breakfast Box are sufficient to cover their own breakfast.
There are 3 types of Breakfast Box, where we provide them in rotation, and a children's box.
In case you pre-book your breakfast, the price we provide you with the daily Bonjour Breakfast Box is €8.50. Pre-booking must be made at least 20 days before check-in.
In case you do not book breakfast in advance and decide after check in that you want a breakfast box, you can ask the manager and we will be happy to serve you. The price of each breakfast box will be €12.50.
The packaging is plastic-free and recyclable.
Each room has a kettle for hot water and in some rooms an espresso machine. Supply the coffee capsules. Please note that the Bonjour Breakfast Box contains instant coffee and tea.
There are plates, glasses and cutlery in the rooms. In case you want to take the Breakfast Box with you, ask the manager to supply you with disposable cutlery.